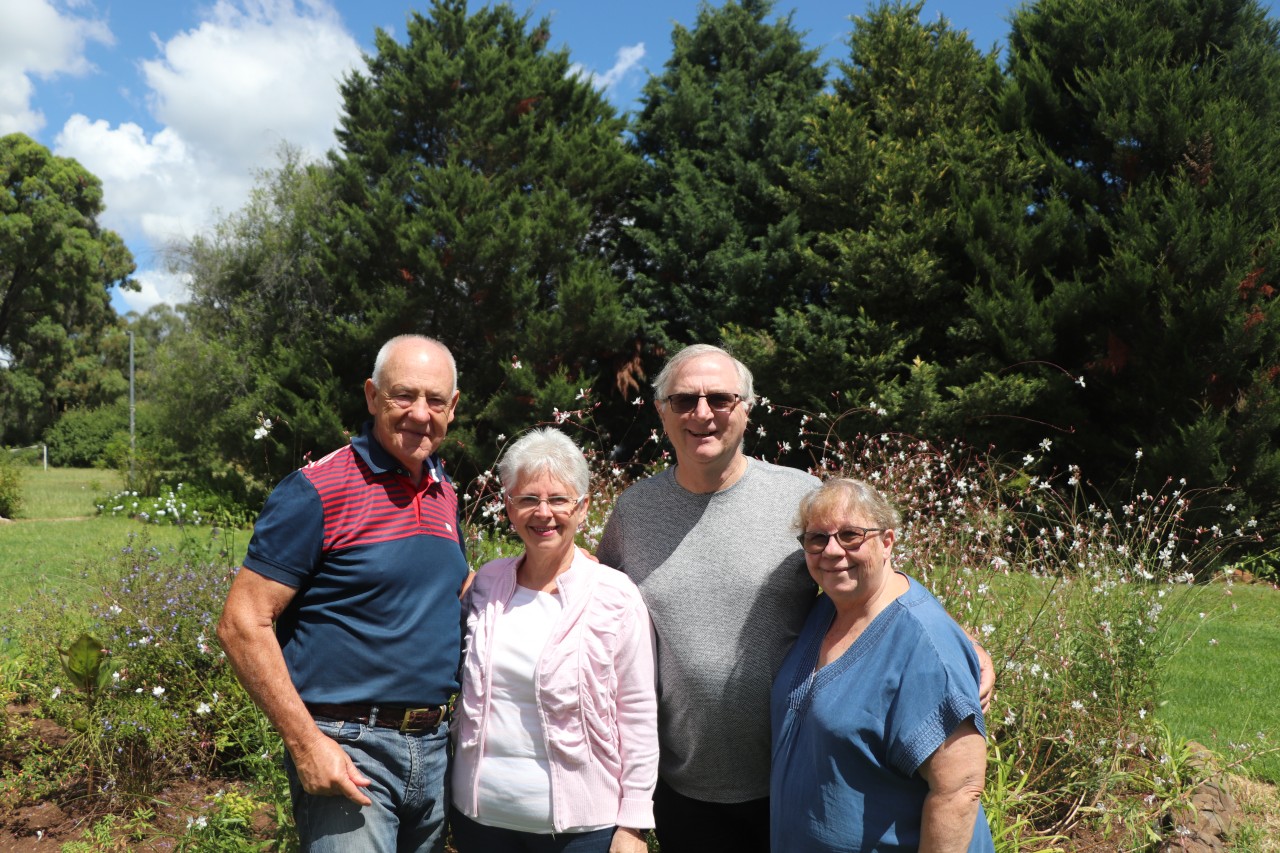 I received the following in an email from John Alley on Saturday January 1st 2022. The promises speak about "rain", and significantly, about 2 hours after this arrived inmy inbox, we had a very sharp short thunderstorm which was not expected. That first storm delivered about 7 mm of rain. It was centred on our church, and nowhere else in Narrabri experienced it. Altogether on that day we received 18 mm of rain.
In thinking about that yesterday morning (having left everything to the last moment), three verses with a common theme came to mind, which I will tell you of in a moment.
But I asked Hazel, who is very dependable at getting trustworthy words, if she would ask the Lord if He had a word for us. I will here share her word first.
However, these two 'words,' Hazel's and mine, at first may seem incongruent - until you consider that Isaac planted in famine and harvested a hundredfold. I think they should be taken together, each instructing on how to walk with the Lord this year.
Here are the Words Hazel heard:
"Trust in the Lord with all your heart and lean not on your own understanding." (Proverbs 3:5)
- Leaning on your own understanding will not get you through next year.
- We need to purposefully and actively seek the Lord (LISTEN) to succeed (or even survive?).
- This must be the way we live every day, not by just at times asking the Lord about particular circumstances.
- The Lord is faithful but we need to be putting our lives in His hands.
- Next year is pivotal to the future. I clearly feel that the scale of this is not just local (not just a word for the little bubble we each live in) but national.
What also came to me was that China wants our coal, and if they get half a chance they would do anything to get their hands on it. They would ramp up the mining and shipping of it and not care about questions of the environment.
To this I (John) add a note on two scriptures:
First, Hazel quoted Prov 3:5 above, but take it with V6, which adds the statement that He will, for those who so walk, sort out the path ahead.
Proverbs 3:5-6 (ESV)
5 Trust in the LORD with all your heart,
and do not lean on your own understanding.
6 In all your ways acknowledge him,
and he will make straight your paths.
Second, after reading Hazel's note and spending an hour listening, the Lord immediately directed me to the following verses of Psalm 99 (v5 gives the position we would be smart to take). God does discipline nations as well as the church, and watches over the direction of the world. Christ is the ruler of the kings of the earth, and raises one and puts down another. Governments are the ministers of Christ, and the history of the world serves a gospel purpose. Great transformation of nations are, step by step, ahead of us – but there are, have been, and will be times of transition and upheaval. We are in such a time. Best to walk closely with the Lord, and listen, listen, listen.
Psalms 99:1-2 (NIV 1984)
1 The LORD reigns,
let the nations tremble;
he sits enthroned between the cherubim,
let the earth shake.
2 Great is the LORD in Zion;
he is exalted over all the nations.
Psalms 99:4-5 (ESV)
4 The King in his might loves justice.
You have established equity;
you have executed justice
and righteousness in Jacob.
5 Exalt the LORD our God;
worship at his footstool!
Holy is he!
Now, here are the promises which I feel are pertinent, in the format which I passed on to John Christian:
It would be very important, in your situation, to have your people believing that the Lord wants to provide, bless and prosper His people - even when living in hard times. In fact, the book of Genesis tells us that Isaac planted during a famine, but then received a 100-fold harvest. The world is going through troubled times, but even so, in such times the Lord can and does provide well for His people. We must pray, but in a trusting and believing way.
Consider all the following verses to contain the Word of God for you. The three main statements of promise I have put in bold:
FIRST PROMISE
"The LORD will open the heavens, the storehouse of his bounty, to send rain on your land in season and to bless all the work of your hands."
Deuteronomy 28:12 (NIV 1984)
Rain is a symbol, for blessing, providence, an open heaven over our lives, for the giving of both Word and Spirit, and for prosperity. Another symbol is "your land:" for you, this is your church, your city, your nation. A further symbol is "the work of your hands:" For Israel, it was their farming; for all believers, their labour or serving in any matter, their job or their business; but for ministers and churches, the "work of their hands" is, of course, the ministry, the pastorate, and the gospel.
SECOND PROMISE
9 You visit the earth and water it;
you greatly enrich it;
the river of God is full of water;
you provide their grain,
for so you have prepared it.
10 You water its furrows abundantly,
settling its ridges,
softening it with showers,
and blessing its growth.
11 You crown the year with your bounty;
your wagon tracks overflow with abundance.
Psalms 65:9-11 (ESV)
THIRD PROMISE
3 His divine power has granted to us all things that pertain to life and godliness, through the knowledge of him who called us to his own glory and excellence, 4 by which he has granted to us his precious and very great promises, so that through them you may become partakers of the divine nature, having escaped from the corruption that is in the world because of sinful desire.
2 Peter 1:3-4 (ESV)
I